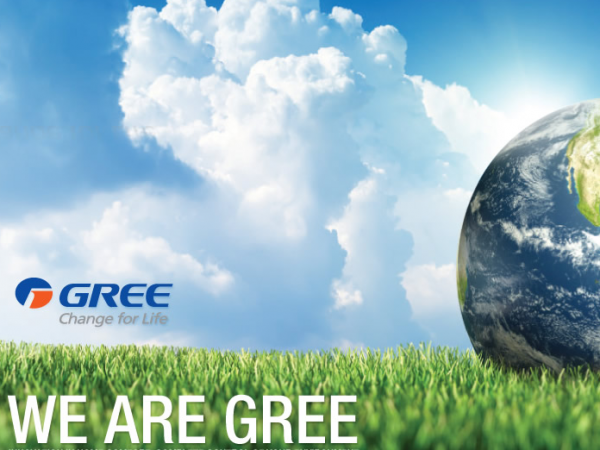 Gree Electric Appliances, Inc. of Zhuhai is a diversified international industrial group, whose business covers residential air conditioners, central air conditioners, intelligent equipments, home appliances, air source water heaters, smart phones, refrigerators, etc.
Gree was founded in 1991. It takes "Independent Innovation" as the development concept and "To build a centenary enterprise" as the business goal. It is highly reputable both at home and abroad for its advanced technologies, strict quality control, unique sales mode and complete after-sales service.
The company has its headquarters in Zhuhai, a beautiful coastal city in the south of China, with over 80,000 employees. Gree has established 11 production bases around the world, 9 are located in China, with another 2 in Brazil and Pakistan. Moreover, it has 5 bases of renewable resources in Changsha, Zhengzhou, Shijiazhuang, Wuhu and Tianjing, and 6 subsidiary companies (Lamda Compressor Co. Ltd., Gree Electrical Co. Ltd., Kaibang Motor Manufacture Co., Ltd., Xinyuan Electronics Co., Ltd, Intelligent Equipment Co., Ltd and Precision Mould Co. Ltd), covering the entire supply chain from production of core parts and components to the recovery of waste products.
Now Gree are authorized to establish "State Key Laboratory of Green Air-conditioning Equipment and System", "National Engineering Research Center of Green Refrigeration Equipment" and "National Recognized Enterprise Technology Center", one National Industrial Design Center, one Robot Engineering R&D Center and Air Conditioning Institute, Motor Technology Institute, Home Appliances Technology Institute, Intelligent Equipment Technology Institute, New Energy and Environment Technology Institute, Health Technology Institute, Communication Technology Institute, Robot Institute ,Numerical Control Punching Machine Institute, Internet of Things Institute, Motor System Technology Institute, Equipment Power Technology Institute,a total of 12 institutes, 72 research institutions and 727 advanced laboratories,over 10,000 researchers. Gree has developed 24 "world leading" technologies: ultra-low temperature digital VRF, high-efficiency centrifugal chiller, G-Matrik low-frequecy control technology, super high-efficiency fix-speed compressor, 1Hz low-frequency control technology, R290 environment-friendly air conditioner, multi-functional floor heating type central air conditioner, rare earth free magnetic resistance inverter compressor, permanent-magnet synchronous inverter centrifugal chiller, 2-stage inverter compressor, PV direct-driven inverter centrifugal chiller, magnetic suspension inverter centrifugal cooling compressor and chiller, high-efficiency permanent-magnet synchronous inverter centrifugal ice-storage chiller, cooling technology at ambient temperature of -40℃, triple-cylinder two-stage rotary compressor of variable volume ratio, distributed air supply technology in heat pump air conditioners, CAN+ communication technology based on VRF Unit, the high efficiency household Multi-connected Air-conditioner based on different volume switching compressor technology, NSJ series vehicle urea intelligent machine, Multi VRF system based on G-PLC without communication cord, Key technologies for air conditioning optical storage direct current, Key technologies for self-adaptive and efficient screw compressor under overall performances, Efficient and direct refrigeration type air conditioner for subway station, High-performance Servo Motor and Driver Specialized for Industrial Robot. Gree products are classified into 20 categories, 400 series, and over 12700 models, with 36,949 technology patents, including 15,253 invention patents. They are sold widely in more than 160 countries and regions, to more than 300 million users all across the world.
Since 2005, Gree has topped No.1 in production and sales volume of residential air conditioners for 13 consecutive years. In 2006, it was awarded "World Brand". Gree achieved sales revenue of 150.02 billion yuan in 2017, with net profit of 22.402 billion yuan and tax payment of 14.939 billion yuan. Gree has paid tax up to 96.353 billion yuan in total, being No.1 in terms of tax payment in China home appliances industry for 16 consecutive years. In 2018, Gree ranked No. 294 on the list of "Forbes Global 2000 Public Companies".